Ona's Natural 20% Concentrated Progesterone Cream, 2 oz Jar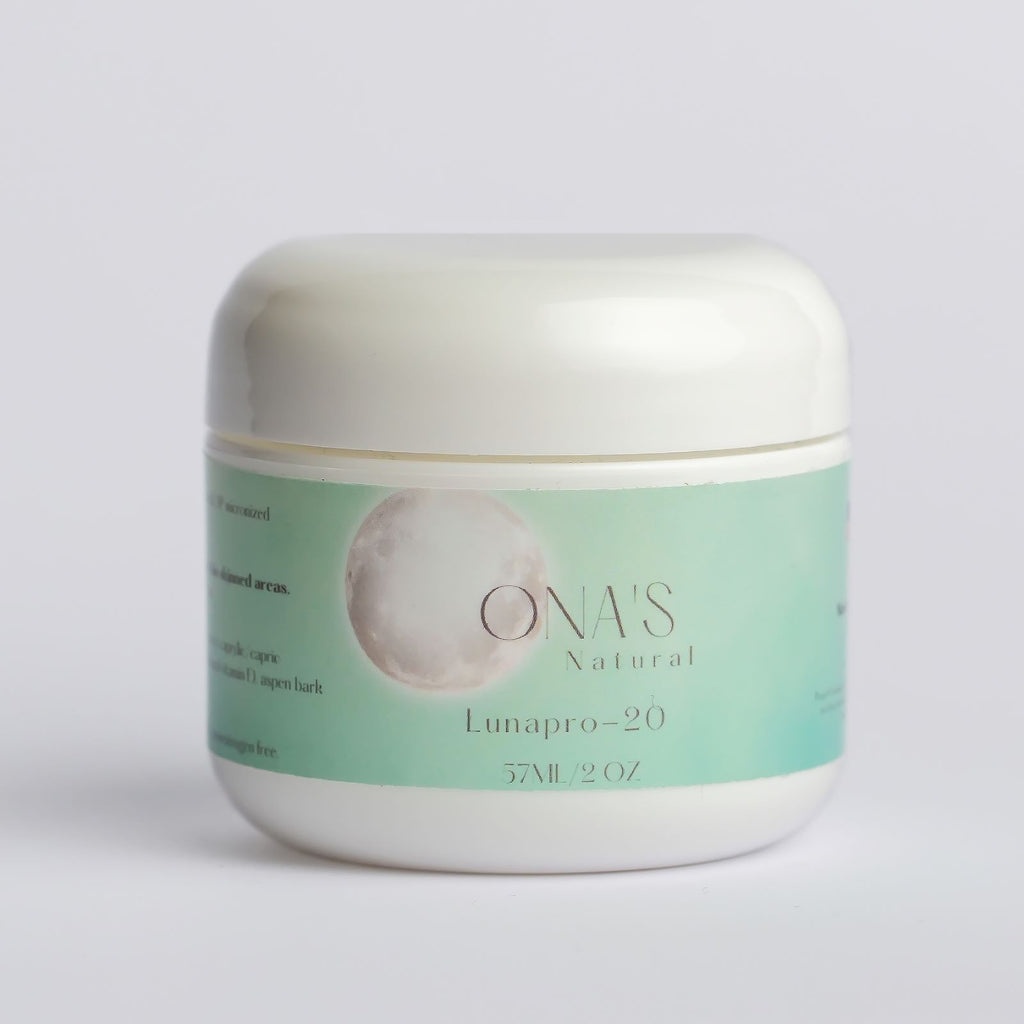 assign audRate=1.6
A$0
Free Shipping & No Tax within Australia
Product ID:179967000588
UPC: 636391359757
SKU: 200MG2ozFCOJar
20% Progesterone Cream 2 oz Pump - Coconut Oil Based
Concentrated progesterone cream 10 x Stronger
Soy, GMO and Fragrance Free.
Contains the highest concentration of 20% Natural Progesterone sold in the over-the-counter market.

​This is a Vitamin E based 20% Progesterone Cream.

May be used as Menopause & Peri-menopause Support.

The Vitamin E molecules are small enough to penetrate the outermost layers of the skin bringing the dissolved progesterone molecules in.

Vitamin E may give skin a firmer, plumper look, which can play a significant role in reducing the appearance of many fine lines and wrinkles.

Rubbing the cream on age spots may also help them to fade naturally, as it helps to repair damage caused by exposure to the sun.

The Vitamin E may have the ability to benefit almost every area of the body when it comes to looking younger and helping the skin retain its moisture, elasticity, and health.
Contents
1 ml contains 200 mg Bio-identical Progesterone and 25 IU Vitamin E.

1/4 tsp contains 250 mg Progesterone and 31 IU Vitamin E.

The jar contains 11360 mg Progesterone and 1420 IU Vitamin E.
Ingredient Facts
20% Natural USP Progesterone.

Purified water - Healthier and safer for your body.

Natural Vitamin E (Tocopherol) - Helps skin stay healthy and helps heal.

Fractionated Coconut oil (Caprylic/Capric Triglyceride) - A very light oil usually used as a massage oil, no coconut proteins. Improves mineral absorption as well as protein and fat metabolism.

Glycerine - Hydrates and soothes the skin. 

Olivem 1000, olive oil based emulsifier - Helps to combine water and oil into a cream.

PhytoCide Aspen Bark Extract - A natural preservative to stop bacteria growth.

HEC - Hydroxyethylcellulose, a thickener without the issues of xanthan gum.
Refund & Return Policy
If for any reason you are not happy with your order, you will get a full refund and you will be mailed prepaid packaging for the return.
110% Satisfaction Guarantee
Ships from California, United States
Disclaimer: These statements have not been evaluated by the Therapeutics Goods Administration in Australia and these products are not intended to diagnose, treat, cure or prevent any disease. Please seek medical advice as this is not intended to provide you as a consumer with any sort of medical advice or opinion. Natural progesterone is not recognised as being different from synthetic.